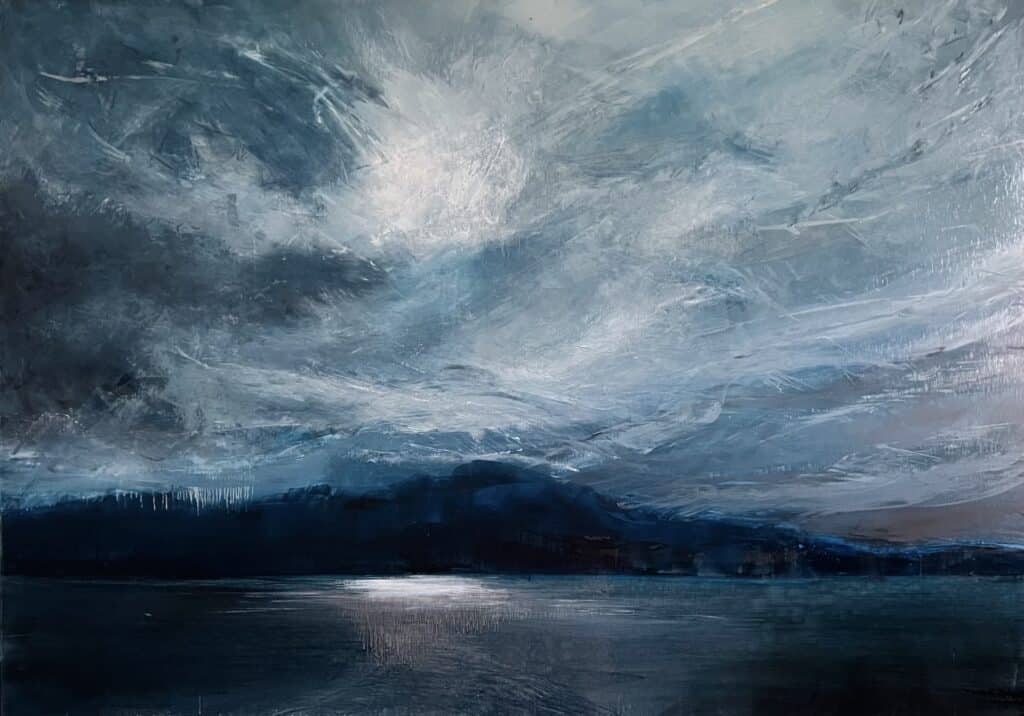 I like to open my bedroom window before I turn in to breathe the cool, fresh, late summer air while I fall asleep. I love the change of seasons, especially summer fading into fall. The long days of summer all of a sudden seem much shorter, the air is refreshingly crisp in the morning and the light seems a little more golden and less intense. I think I got my feelings across in this painting, the cool fresh air that presents after a storm has passed, a peaceful calm. I haven't done a storm painting in awhile so I decided to exercise that muscle. We have had a couple of great storms this summer out in Utah, thunder, lightening, sheets of rain coming down so hard the water flies off the roof before the gutters can catch it and even hail pelting the ground. That is Mother Nature exercising her muscles.
Labor Day has always signaled to me that it was time to go back to school, focus on work and get some things done. I have been working on my marketing and posting more on my Instagram profile. I purchased an app for my phone to help motivate me, (click the links to check out my various profiles). The app is called "Smartist" and is fun to play around with. It has lots of rooms staged to present art and will show my paintings in all different kinds of settings. I can pick frames and mats to size and post one or multiple paintings in each setting. I think it helps to see the paintings on the wall to scale so the viewer can imagine them in their own home.
Building a business can be a slow process but the good news is that you, my wonderful followers, can help me out! Just follow, like or comment on my posts and keep sharing them with all your art loving friends and family, whether it is on Instagram, Facebook, Twitter, LinkedIn or forwarding my blog posts so your pals can sign up for that too! If you go to an individual painting from the Paintings dropdown menu on my website, there are even share buttons for Facebook and Twitter to make sharing super easy. Any and all interactions help a lot and are greatly appreciated. Thank you!
Of course the best way to see my art is to pop by The Summit Gallery at 675 Main Street in Park City, Utah. I paint on metal panels and they reflect the light in the room so they are more interesting to see in person. I have a few more surprises that I have been working on for the holiday selling season so stay tuned.