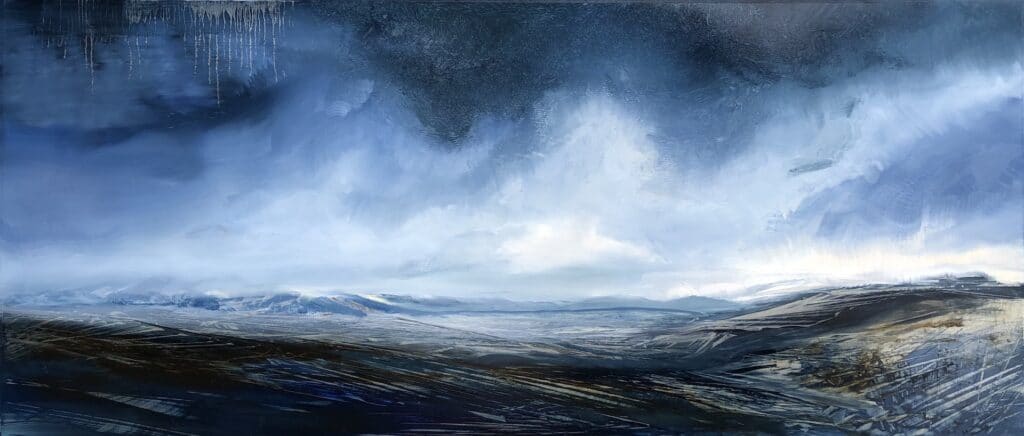 Safe Travel?
Seeking safe passage is something that we are all concerned about these days. I for one was getting really antsy. I decided to take a road trip to Jackson, Wyoming to look for a second gallery to represent my work and pop in to Yellowstone National Park.
Yellowstone is a short drive from Jackson and I had never been there. I love visiting our National Parks and Forests. They always provide amazing inspiration and renew my spirit. Expecting to see regional visitors, I was shocked to see license plates ranged from Alaska to New Jersey and every state in between. I am happy to report that almost everyone wore masks in town and we seem to have dodged the covid bullet, thankfully.
Seeking Safe Passage
This painting, (above), stretches out in front of the viewer. I have always loved watching cloud shadows, drifting over the mountains. It is super relaxing for me, similar to watching the actual clouds drift across the sky. Adding a dark cloud shadow in the foreground of this piece adds a bit of drama. It creates a threshold for the viewer to move beyond, pushing toward the distant mountains on the horizon and creates space in the piece.
Painting on Metal
Painting on metal is a challenge to photograph since you don't see the reflection of light in my work in a still pic. Come and see my paintings in person at The Summit Gallery! 675 Main Street, Park City, Utah. It is just down the hill from LL Bean;)
Upcoming Shows
Artexpo New York 2020, w/Art Up Close, Pier 94, 55th Street & 12th Avenue, New York, N.Y., April 22-25, 2021
The Artbox Project, Barcelona 1.0, Art Metropole Europe, Barcelona, Spain, May, 2021.
The Monaco Yacht Show, w/Art Up Close, Monte Carlo, Monaco, September 22-25, 2021