"Go with the Flow" is the name of this show at The Hole Gallery in the East village on the Bowery. It is a total of 19 Artists with their own take on spray paint. Thought I might figure out some new techniques to try when I get back to the studio.
These two are by Zane Lewis and are really big at 88″ x 64″ Nice to be faced with so much color, I'm guessing they are doors, one open and the other shut but I've no idea really. That is where attending the opening of the show is helpful so you can talk with the artists. I love the happy rainbow effect of the bottom one in particular.
This is my favorite piece from the show. Most impressive, also very large at 96″ x 70″ by Rosson Crow. It reminds me a lot of a small pencil sketch that hangs in the Tate Modern which of course I can't find at the moment. Lots of zig zags and angles but this has some interesting things thrown in that you have to look for to see, like the American flag and the ladies' leg/boot weighing in.
These two pieces are by Michale Dotson, 24″ x 24″ squares. I like the flat pattern the shapes form, a lot like the Japanese wood cuts and he painted texture in with the brush on different portions of the pieces, then did what looks to me like a stencil and used the aerosol in gradations over that. Great layering effects. He even painted shadows on the drips on the lower painting that leans in the direction of a cartoon. Lots at play here.
Color theory comes to mind with this one by Timothy Uriah Steele. I love the way the purple dots change on the graded background. The paint amebas over the top are actually pretty thick paint and there are holes ripped or torn in the centers of some of them. The photo looks even better than the actual piece as it looks more 3D on line.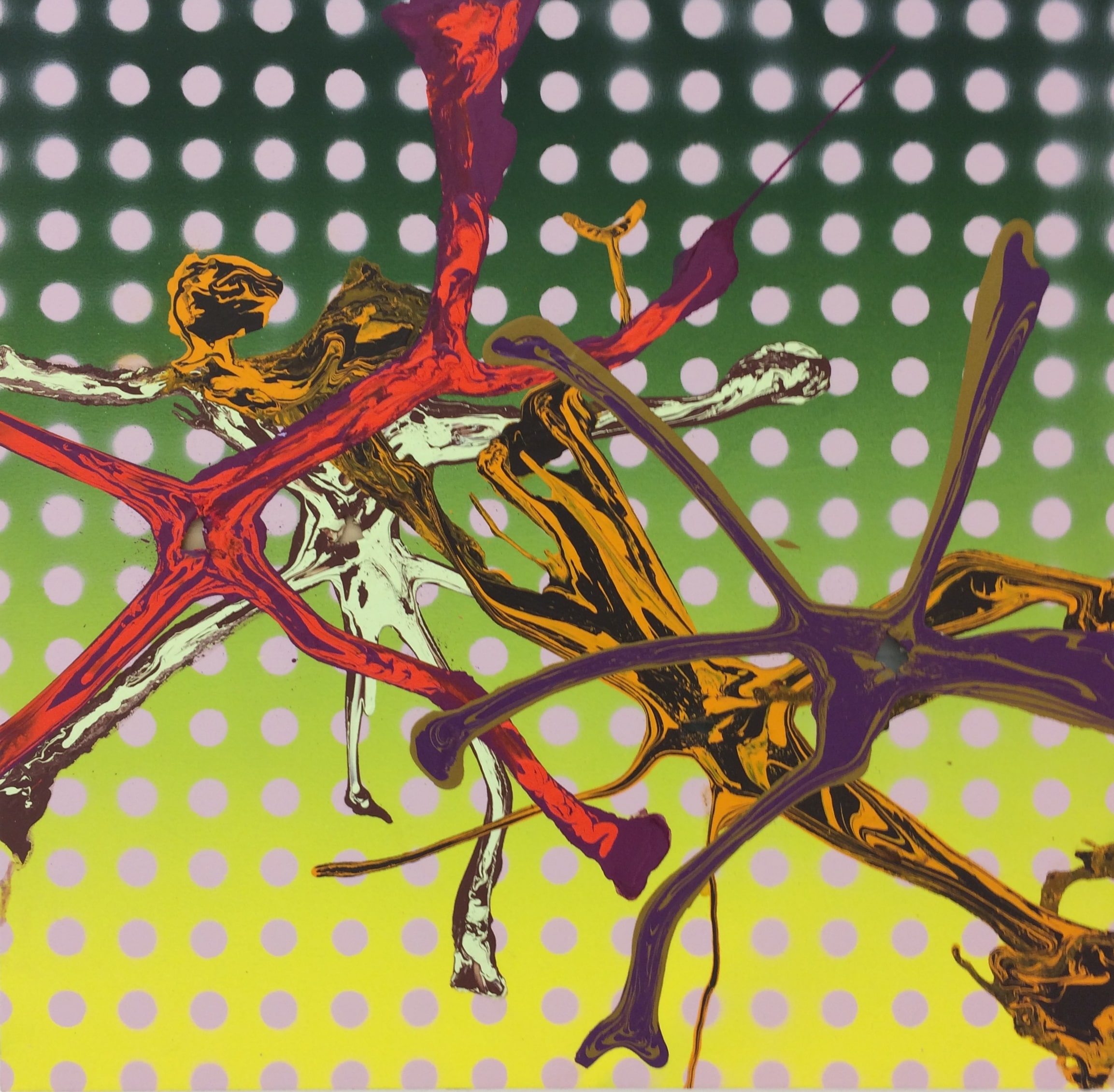 Textile dye and acrylic on canvas make this piece by Evan Gruzis look very dreamy.