I am generally a very open person. My family is always amazed at the intimate details complete strangers share with me about their lives. Some amazing opportunities have come my way just by happenstance, or fate as you will, from being open.
One summer afternoon in 2014, shortly after I had moved back to NYC, I found myself on an LIRR platform, trying to figure out which platform was for trains going into NYC and which were going out to the end of Long Island. There was no one around to ask, the ticket window was closed. An unusual looking man, dressed in cargo shorts, a tee shirt and a ball cap that said, "JERK" across the front walked onto the platform, (I later discovered the street artist, "Incarcerated Jerkface" hence the cap). He had a twinkle in his eye, a waxed handlebar mustache, tattoos everywhere and was carrying some canvas bags. I decided to ask him if I was in the right place. He answered in an Irish brogue that indeed I was on the platform heading to NYC. We started talking and he told me that he was heading to Bushwick, Brooklyn to work on a mural for The Bushwick Collective, and showed me all the cans of spray paint in his bags. Solus was my personal introduction to Street Art. His visual social commentary is concise and on target and his playful sense of humor draws you into his world and makes you want to see what else he has to say. That chance meeting opened my eyes to all the street art around me and I was hooked.
I wanted to work with spray paint and on a larger scale. The street is a gritty place so I used that influence by spray painting on old construction board, then using markers and oil crayons for more definition. I worked in the stairwell in my building which was being renovated so there was lots of construction there at the time. Certainly not ideal but super exciting. I was kicked out of the stairwell by the construction dude and that was the end of spray painting until I moved to the Bay area near San Francisco. I converted the garage of that place into my outdoor studio. I started small and found I liked thinking about the directional light that I could create within each piece. More fun.On
Once I got the feel of it, I wanted to work bigger so found some steel at Home Depot and did a series of large flowers, experimenting with different techniques. I like layering the colors in a veil, masking the edges and experimenting with different nozzles to get different effects.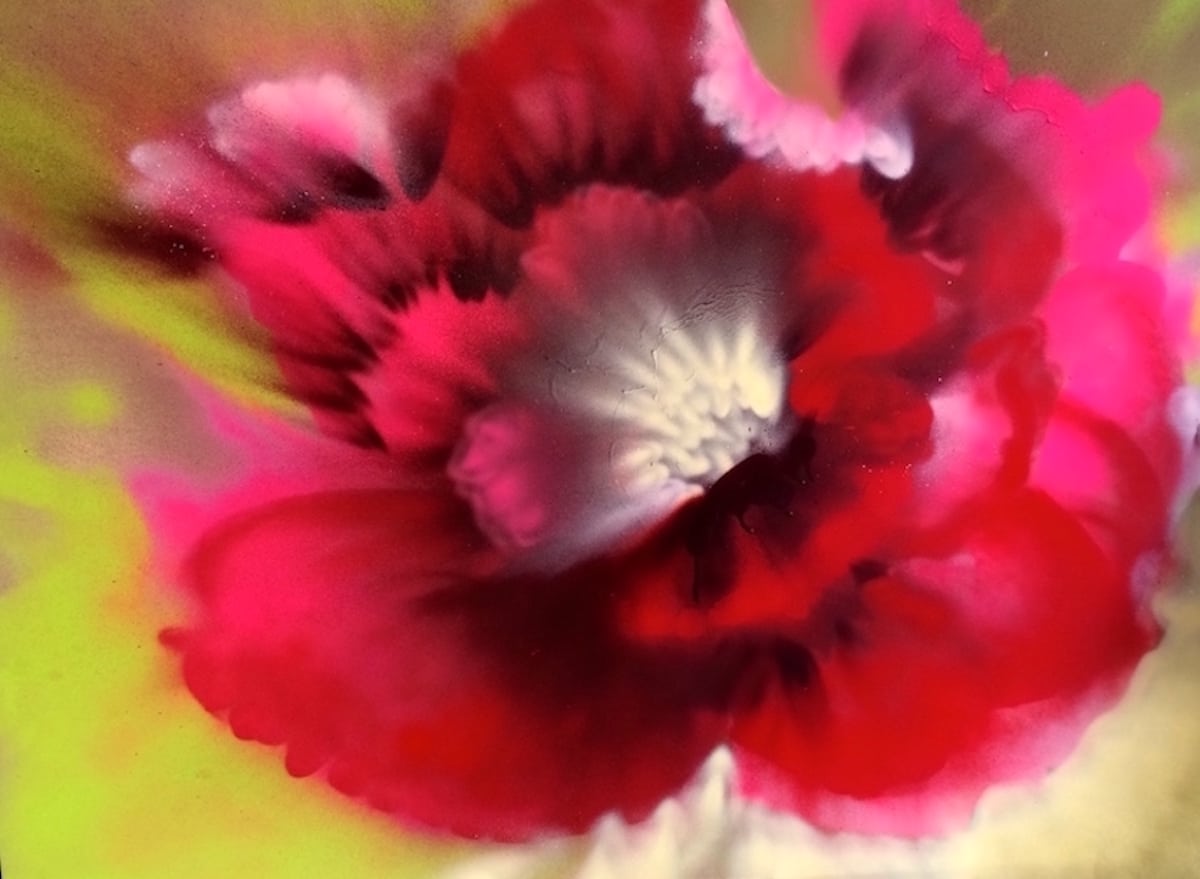 Finished and framed it brightens up an otherwise white apartment in my beloved NYC.
Big Red was juried into the Artbox Project's gallery at Art Basel Miami. My friend went to check out my art and make sure everything was looking good for me. I was digitally represented in this show which is wonderfully vibrant on the screen.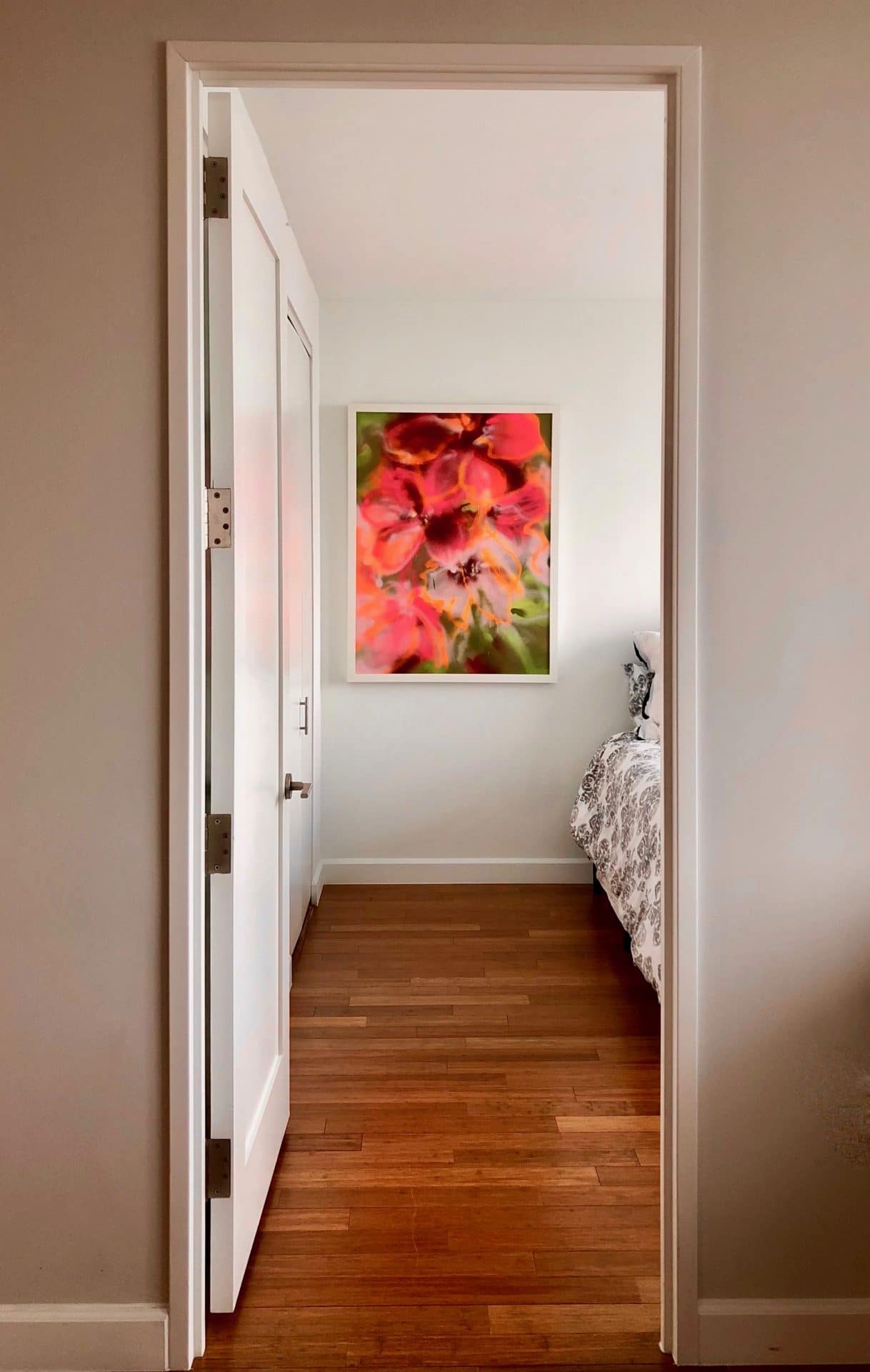 Delphinium, (above), can be hung vertically or horizontally. A lot of time when I am working on a composition, I flip the panel around to make sure it is balance, especially in more abstract works. Carmen, (below), has layers of color to create luminosity and vibrance.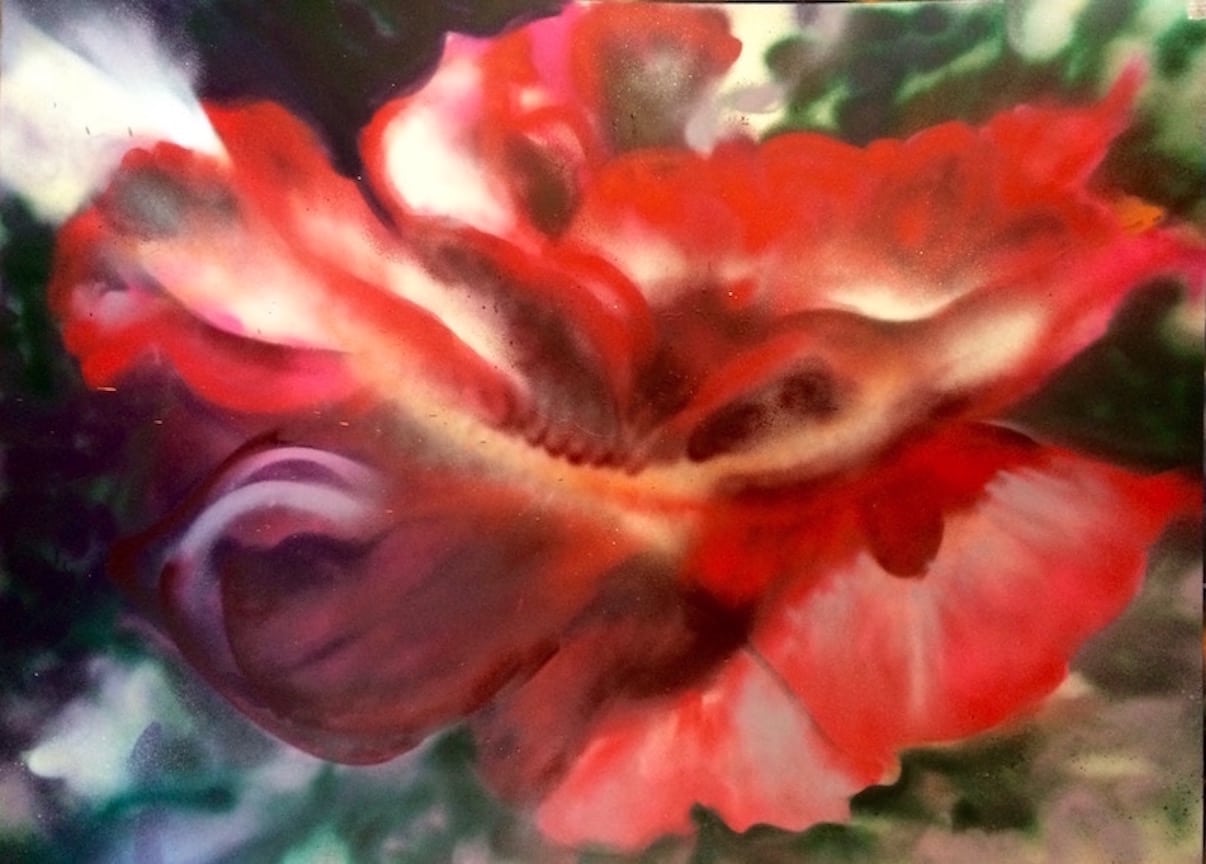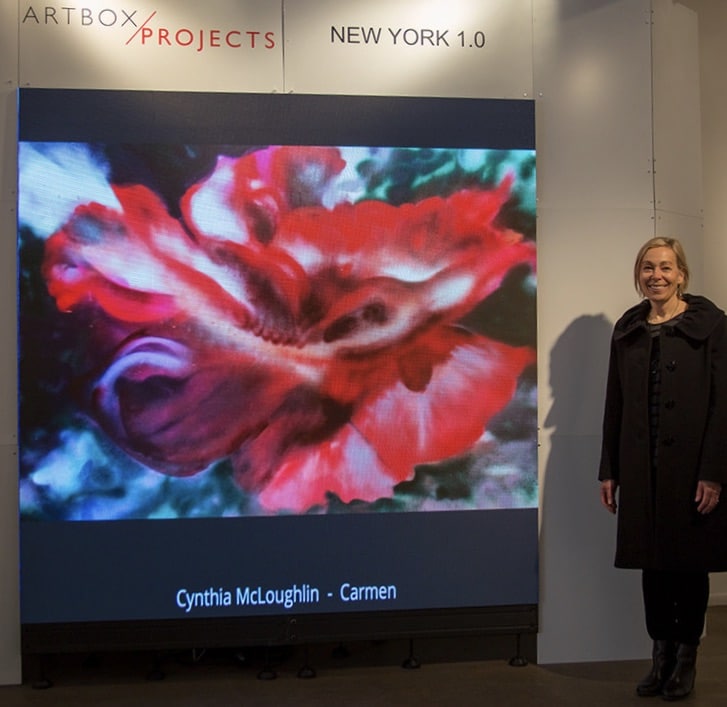 Violet Iris was sold to a collector who loves everything Iris.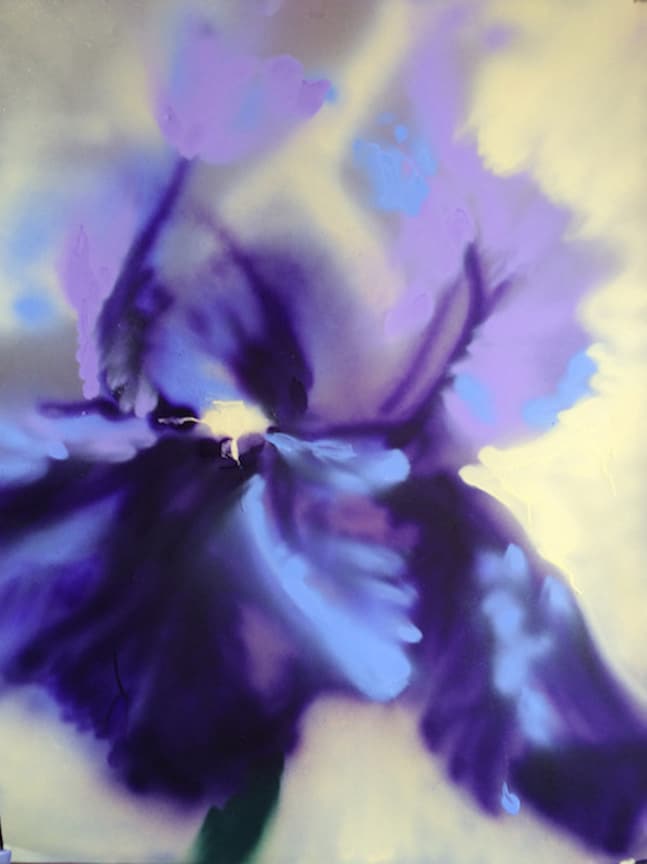 I really liked the vibrant brights but wanted something a bit softer in dessert colors to sell in the high desert of Park City, Utah. I made Metamorphosis and Spiraling Fauna as companion pieces. The former is a large orchid like flower and the latter a compilation of smaller shapes weaving through one another.
So now what? Well, since the weather has finally warmed up, I am back in my well ventilated semi-outdoor studio thinking about what to do next. I used an underpainting that was spray painted for my most recent piece, "Pestilence" and am working on a few more sub-paintings for a few more city scapes. I follow artist Douglas Schneider in social media as I really enjoy his perspective and works. He is a master at abstracting parts of his paintings while still having nostalgic, figurative elements as well.